Five Unmissable Luxury Barcelona Stores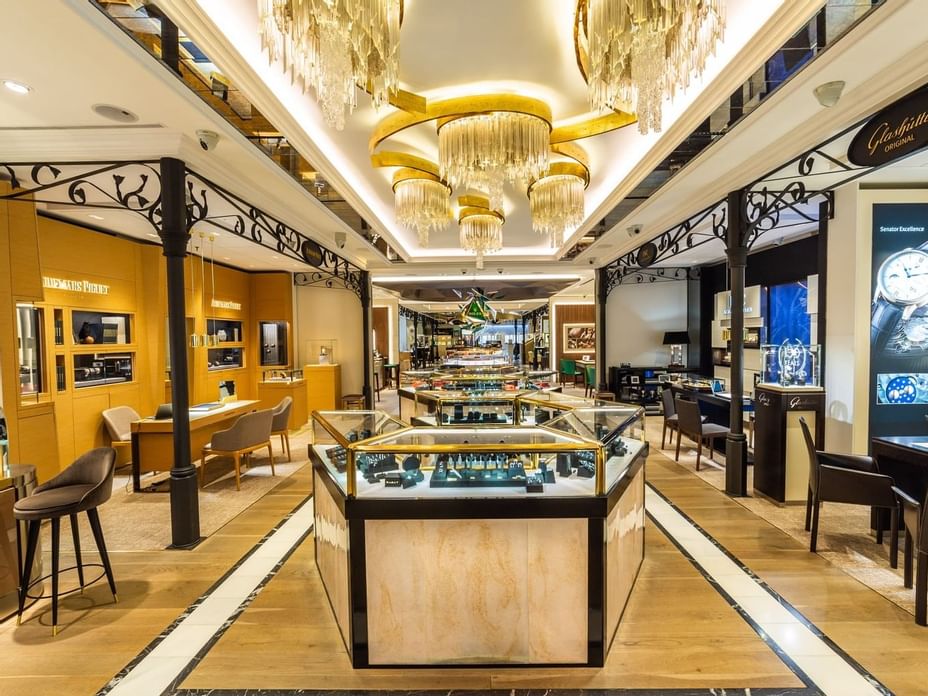 Whether you're hunting for the perfect gift for someone special (even if that special someone is yourself), Barcelona has no shortage of out-of-the-ordinary, luxury, and even one-of-a-kind gifts. Here's our recommended five must-visit stores near Hotel Continental where the focus is on the best of the best and celebrating special moments.

1. Dress To Impress – 175 years as a Barcelona favourite, Santa Eulalia at Passeig de Gracia, 93 (20 minute walk from Hotel Continental) is your designer dream. If you're looking to level-up your H&M, Zara or Pull&Bear purchases then Santa Eulalia has been the place to go since 1843. Burberry, Balmain, Balenciaga and Beckham (and that's just the B's) fill this store with fashion fresh, his and hers designer clothing, shoes, accessories and scents. If you want the perfect date night outfit or designer finery for your significant other head here. Oh, and if your quick clothing stop ends up taking the whole day, then lunch at their restaurant means you really can make a day of it.

2. Diamonds Are Your Best Friends – Exceptional fine jewellery and watches next door to the iconic La Pedrera (and opposite Santa Eulalia) at Passeig de Gracia, 94. Discover one of the best collections of elegant pieces in the city. Over 6 floors and 2500m2 of retail heaven you'll find Rolex, Omega, Breguet, Bulgari, Vacheron Constantin and many more of the most famous and lusted after watch and jewellery makers in the world. There are also workshops within the store where craftsmen can repair and customise. If you have the budget, then the location, the craftmanship and the experience make it a must.

3. Wine & Dine – A Barcelona institution, Quilez is home to a great range of deli favourites and beautiful bottles. You might see more than one of these in your Barcelona rambling, but the nearest to the hotel is Carrer de Aragon with Rambla de Catalunya, an 5-minute walk from the hotel. Buy a bottle of something special for some in-room celebrating at Hotel Continental (live the Freixenet dream right here) or a take-home souvenir that's especially Spanish or uniquely Barcelona. Imported whiskys, wines, gins and more rub bottle-necks with Jamón ibérico, cava, cheese and much more. Fill a bag and head to a park for the perfect Quilez picnic.

4. Cigar Celebrations - Casa Fuster on Rambla Catalunya 29 (8-minute walk from the hotel) is the cigar specialist. A world-famous tobacconist in the heart of Barcelona run by two generations of the Fuster family, Casa Fuster are experts in the world of cigars and all things tobacco in Barcelona. The team know their way from Cubans to Dominicans, and the title of "Espacialista del Habano" is well deserved. The specialism of the store means this won't be for everyone, but for anyone looking to experience a little of that Cuban-esque cigar life or planning on buying a box to celebrate a special moment – there is nowhere better in the city.

5. The Highest of High-Fidelity - Werner Musica at Carrer de Fontanella, 20 is just a 7-minute walk from the hotel but you'll probably need to take a taxi back for the inevitable purchase. A combination of hand-picked high-end stock, great variety and most importantly staff who know their way from turntable to amp and digital to analogue make this one for the audiophiles. With brands like Acoustic Solid, NAD, Kharma, Grado and many many more in stock, prices range from wallet-friendly headphones to speakers that run into the tens (or even hundreds) of thousands of Euros.