Contact Hotel Continental Palacete
Get in touch with Hotel Continental Palacete
The Hotel Continental Palacete is located in Rambla de Catalunya, this avenue starts uptown, passes through the area called the Eixample, skirts the Plaza de Catalunya, eventually reaching the sea via our own Hotel Continental Barcelona . There is so much to explore: the Maritime Museum, the port, the aquarium, the cathedral, the Plaza Sant Jaume, the Gothic Quarter, the Generalitat and the Town Hall. All this and more is within easy walking distance of our hotel in Barcelona City Center.

Hotel Continental Palacete
...
If you wish, you can reserve your transfer service from/to the Airport or the Port. Please let us know and we will reserve that service for you.
30, Rambla Catalunya - ZP 08007 Barcelona
Hotel Continental Palacete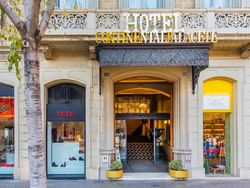 The Hotel Continental Palacete with its sumptuous Louis XIV-inspired Versailles salons is located in the fancy Rambla de Catalunya. This hotel offers 19 comfy rooms full-equipped with full bathroom with bath tub, air con, a safe box, TV, iron (under request), a microwave and a fridge.

30, Rambla Catalunya - ZP 08007 Barcelona, SPAIN
T: +34 934 457 657
E: palacete@hotelcontinental.com
How to get to the Hotel Continental